My crash was seven weeks ago today and this week was a good week.  I had a follow-up visit with my nurse practitioner yesterday.  The first question she asked was "Are you starting to feel normal again?"I told her I felt good and was getting back to normal.  My sleep has gotten better. I have less difficulty eating. I've been able to get back to exercising, and I visited the dentist to get the work on my mouth started.  The NP was less enthused than I was about my exercise this week, but did refer me to a physical therapy office that specializes in spine injuries. I felt good about that.  The NP's thoughts were that I should take it slow getting back to exercise and that I should hold off on running until I see the physical therapist.  The office I will be going to has neurosurgeons and physiatrists on staff, so I should be in good hands there.
Last Sunday, I did my first spin on my bike trainer for 45 minutes.  Everything felt really good except for my heart rate.  My heart rate was about 10 to 20 beats higher than it normally would be at the same power output.  I didn't feel like my perceived effort was as high as my heart rate indicated, but I was pretty cautious and paid close attention to my heart rate. I was in aero position for most of the ride and noticed that turning my head was difficult in that position.
On Tuesday, I was invited to go out with a group from the YMCA for an open water swim at their summer camp on Naticook Lake.  I'm not ready to swim and definitely not ready for an OWS, but I could go out in the canoe with the instructor.  Sandra and I met the group as they were getting ready to go out.  We were able to find a canoe that wasn't locked up and followed the group out on the lake.  It was peaceful being out on the lake in the early morning and we got to see a blue heron flying around and hanging out in the trees waiting for us to get out of his territory.  Seeing everyone swim definitely left me pining for the day that I could swim an OWS comfortably.
On Wednesday, I visited the Nashua Y to say hello to people in the Tri Club swim class.  Sandra is still driving me around, so she got to put some names to faces for people I have spoken about.  It was great to see everyone, and I again started calculating in my head when I thought I would be ready to swim again.  I gave myself two weeks to get back in the water  – who knows if that will really happen.  I also set an audacious goal of doing a 90-minute trainer ride later that day.  I chose a tempo ride where I had to do an hour in zone three.  Needless to say, I didn't make the hour in zone 3.  I did 15 minutes before taking a recovery break in zone 1, then back to zone 3 for 10 minutes with a 5-minute recovery to get my heart rate down and finally 5 minutes at zone 3 and the rest of the ride in zone 1.  So I did 30 minutes in zone 3 and did a total of 75 minutes.  I guess that isn't bad for my second time on the trainer. The whole goal was to see how I felt doing something other than a free spin.  I didn't feel like I just picked up from where I left off on the bike before the crash, but I was able to do something with a bit of a challenge.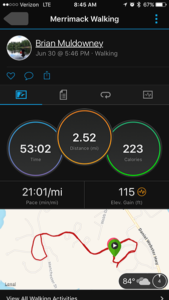 My TRX/Synrgy class was still meeting on Thursdays, so I joined the class to see how I would do some core work. Everyone seemed happy to see me, and I was happy to be there.  There was only one element that involved jumping and one that was a wheel ab rollout. I modified both of those due to my neck issues but was able to do the rest of the elements without any issues.  I also kept the weights low, so as not to put too much strain.  Everything went better than expected and I lasted through the whole 45-minute class.
Friday I kept my exercise to a 2.5-mile walk in the rain with Sandra.  My heart rate was five to ten beats lower for this walk than it had been the previous week. We got to watch the lightning coming down around us.  I saw an alert on my phone from the Weather Channel there was a lightning strike about 2 miles away.
Today, I did a different bike workout that involved some short zone 7 intervals followed by a longer zone 2 interval.  This ride lasted 70 minutes, and I was entertained by the start of the Tour de France for most of the ride.  Again, I felt good, and although my heart rate continued to be high, I wasn't gassed at the end. I can't wait to go to PT and get an idea of when I can start swimming and running.
It was also a good week from the medical side of things.  I saw my dentist, and she got the ball rolling on getting all my mouth issues resolved. After doing the waiting game for six weeks and dealing with the foolish head of plastic surgery at Lahey, this was a huge relief.  She polished the stains from the Peridex off my front teeth and told me what the possible next steps would be to fix my broken tooth and evaluate the damage done to my other front teeth.  She was amazed that I didn't have more broken teeth or a broken jaw.  She set me up with an appointment with a local endodontist to get a CAT scan of my jaw and teeth to get the total picture of the damage done.  We have to wait a week or more to get the results because of the midweek holiday, but I can live with that since things are moving along.
Even though we had an appointment scheduled with an oral surgeon for my tongue, she was able to get us in to be evaluated by a different oral surgeon the next day.  The appointment with the oral surgeon went well, and I have surgery set for the beginning of August. He was also amazed I didn't break my jaw and that I had only one broken tooth.  I will go under general anesthesia since what he described them doing involved a number of painful shots to the tongue sounded like something that sleeping through would slightly better. He said he would need to excise some of the extra tissue in the tongue flap and fold it in a bit before stitching it up. He said it was a pretty simple and straightforward procedure.  The plastic surgeon I saw a week before getting my brace off wanted to wait three weeks to evaluate it again and then wait another indeterminate amount of time to evaluate it again to see if it had changed.  Mind you, he almost walked out of the room without looking at my tongue, nor did he bother to take a picture to make a judgment of whether or not it had changed.  He clearly, flies by the seat of his pants when making his indecisions.  That was something I couldn't and shouldn't have to take any more. Even though I have to wait until August, at least there is a solid plan in place to get things done.
Now the big question is can I get back in shape in time for Ironman Arizona in November.  Things are moving back to normal.