Beginning the Week of Firsts
On Wednesday, June 21st, I went to the Lahey Medical Center to have my neck x-rayed and met with the Nurse Practitioner in Neurosurgery about the next steps in my treatment.  Well, the short of it is, there are no next steps. After a short session with the NP, she said I was free to begin normal activities.  "No restrictions!" I asked if that meant I could go back to running, biking and swimming, she said "yes."  Hmmm, Sandra and I were skeptical, but because of the way it all played out, we forgot all of the questions we planned to ask and were happy to just get the hell out of there.
To back up a bit, this is how our morning that day went.  We arrived about 25 minutes early due to there being no serious traffic back-ups on Route 3. You never know what you'll hit close to rush hour.  We checked in at Radiology before 9am, and I was called for my x-rays shortly after we arrived.  I had to stand in front of the x-ray machine and have a side and frontal shot.  Then, for the last one, I had to stand there with my mouth open, while they took a shot through my mouth. Of course, they tell you not to move and for some reason that always makes it harder to stand still.  I had planned for the possibility of getting an MRI, so I had taken an Ativan on the way to the appointment.  I get claustrophobic in  MRI machines, something I found out during a hospital stay a few years ago, so I was prepared.  As it turns out, I didn't need one, so I was artificially happy for no reason.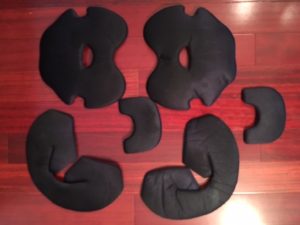 About ten minutes after the x-rays were done, we were called into an exam room in the neurosurgery unit and peppered with questions about who we are and was anyone trying to harm me [did i feel safe at home].  That seemed like a loaded question given where I was.  After the round of verification questions, we saw the NP.  I was given the battery of physical tests  – squeeze my hand, push against my hands with various limbs and asked how I was feeling. I guess I surprised her when I pushed up against her hands with my arms and both she and my wife reacted.  After I had passed all the physical tests, she reached up and undid the straps to my neck brace and removed it.  Sandra was taken aback and thought my head was going to loll to one side.  It didn't, so the NP had me move my head side to side, up and down and asked me if I had any pain.  I told her I was just stiff and had no sharp pain.  That's when I got the all clear and I clarified that meant I could go back to training.  We walked out of the room leaving the neck brace on the exam bed.  In retrospect, I should have taken a picture of it there on the bed. That would have been a pretty cool shot.  We now have two sets of neck brace pads that are free for the taking, just email me, I'll even pay for shipping.
During our ride home, I noticed how instinctual turning your head really is.  Different things caught my attention as we were driving and I had twinges of pain when I turned my head quickly to look at them.  The pain wasn't bad, just the kind when you have a stiff muscle that lets you know that it's there.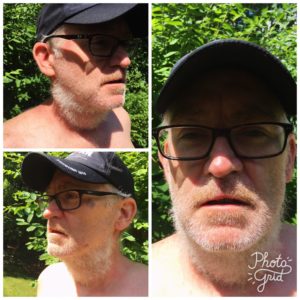 The result of having the neck brace on for close to six weeks resulted in a pretty awesome neck beard.  I posted the picture to the right on Facebook and asked for votes on whether to keep the neck beard or not, using hashtag #neckbeard.  Little did I know, Neckbeard is a meme for:
Neckbeard is a pejorative term referring to unattractive, overweight and misogynistic Internet users who wear a style of facial hair in which a majority of the growth is present on the chin and neck. Neckbeards are commonly associated with hipster stereotypes and Internet addicts who frequent websites like 4chan and Reddit.
Awesome, I'm glad I have now associated myself with that.  On the positive side,  these pictures were taken only minutes before I had Sandra run the clippers on my neck before taking a shower and shaving for the first time in 6 weeks.  Becuase my upper lip is still pretty tender, I had to leave a mustache for the time being, much to the dismay of my daughter Brenna.
Showered and clean shaven, I was ready for my first night's sleep without the neck brace.  Was this going to be one of those times where you are living the cliche, "Be careful what you wish for?"  Luckily, it was not.  I took a flexoril and slept well for the first time in weeks.  I woke up a few times when I tried to roll onto my stomach and hug my pillow like I used to.  I was still too sore to do that.  But, all in all, it was a good night's sleep.  The Vivofit had me at 3:57 hours of deep sleep and 5:11 hours of light sleep.  So I had over 9 hours of sleep and woke up four times during the night.  The night before, I had 5 hours of sleep, with only 26 minutes of deep sleep and I woke up seven times.  I also slept in our bed for the first time in 4 weeks.  I had tried unsuccessfully to sleep in our bed the first week home.
Eating is also much easier without the neck brace.  I still have the flap on my tongue, but I can move my jaw much easier and therefore chew.  My front teeth are still pretty tender, so it's hard to take bites of things. Getting the brace off also means I can go to the oral surgeon and dentist to get issues in my mouth taken care of.  I'm sure it's not going to be fun, but it's definitely a step in the right direction.
On Friday, I picked up my bike from Drummond Cycles and brought it home.  I found them online when I did a search for carbon fiber repair and figured they would be a good place to get my bike checked for damage to the frame.  They inspected it, did some general maintenance and swapped out my aero bars.  They said it was road worthy.  My bike mechanic at Freewheel Cycles thinks I should junk it since you can never be sure there isn't a hidden crack under a frame decal, which could cause a catastrophic failure. Now, I'm not sure what to do with the bike, but I can at least try it out on the trainer and get started on cycling again. But the idea of a catastrophic failure given what I just went through, has kind of scared me a bit. Actually, the idea of going on the bike again is a bit anxiety provoking, but I need to find out soon if I can do it.
As of now, I'm not going to Physical Therapy or have any follow up with a Neurologist.  I have an appointment on June 30th with my NP, so I will find out then what she suggests.  Everyone, including me, seems to be surprised by that.  Again, I don't know what to think at this point other than I am better today than I was yesterday and significantly better than the last six weeks leading up to this point.  My bike crash was six weeks ago yesterday, and today I am better.