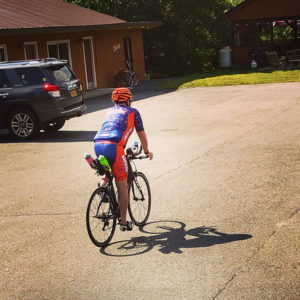 I've only ridden outside two times before heading to Lake Placid.  Luckily, I've built up some fitness on the bike with the trainer, but my tongue surgery pushed me back a little.  I've been pretty much on a liquid diet since the surgery and don't feel like I have the same stamina from before the surgery.  Oh well, I need to see if I can mentally manage the descents in Lake Placid.  I know physically I can manage the bike for the race; it's all a matter of pacing.  Mentally, it's another story.
We arrived late Friday night, and the plan was to drive the bike course in the morning and do the ride afterward.  But since we got in late, we decided not to get up early, (5 or 6 early) and just get up without an alarm.
Saturday – Plans Change
The getting up early plan worked out well, rest-wise, but I realized I forgot to pack any gels for the ride or long run.  So, we got started on driving the course much later than expected.  We had to find a place in Lake Placid that carried gels and then drive the course.  My first thought was EMS but they didn't have any, and we ended up at a bike shop.  They didn't carry EFS, so I opted for the Powerbar Powergels.  The trip downtown allowed us to check out Lake Placid a bit and take in what it has to offer.  We had to wait until 10 am for the stores to open, so we got started on driving the course later than we had loosely planned.
The drive was pretty scenic until we got to the descents out on 73 into Keene.  Seeing the rippled road and no shoulder made me feel a bit uneasy; as did the section that had a turn into a construction zone that narrowed to one lane for both directions and a stop light to manage the traffic flow. Then seeing the rest of the course made me feel better again with the flatter road out on 9N.  I was able to enjoy the scenery a bit more. I also decided that it would be better to ride the full course the next day since traffic had picked up and it was a bit windier as the day wore on.
Once we got back and settled, I went out for a 16-mile ride heading out to North Jay and back on 86 and 9N.  I got a taste of what the road would be like for the second half of the bike during the race.  It definitely felt doable and helped me get ready for the descents the next day for the full loop.  After I got back, we decided we would need to get lunch and headed out to a restaurant just around the corner from where we were staying in Wilmington.  I got a flatbread pizza and should have just said no, but couldn't resist getting a beer.  They had so many local ones to choose from; I just had to try one.  The problem was that I had a two-hour long run to do shortly after we ate.
I felt awful for the start of my run.  Note to self, remember this feeling when you think one beer couldn't hurt.  About 3 miles in, the bloated feeling from lunch wore off, and I started getting into the groove of the run. I did 11.7 miles at a 10 min per mile pace. I took note of the end heading into Lake Placid and how fun it was going to be running uphill near the end of the run.
Sunday's Long Ride
I headed out just after 7 am for the long ride and headed up 86 to Lake Placid from our motel.  Unfortunately, it was raining a bit, so the roads were a little wet.  Not what I was looking forward to with the descents, but it was also pretty cool temperature wise, so that was a good thing.  The ride up to Lake Placid was pretty uneventful, just a 19.5 mile slog uphill with a few downhill spots for some recovery. There were also few cars on the road, which mentally for me was a good thing.  Then came the downhills into Keene that I was dreading.  The wavey asphalt and the non-existent shoulder for most of the descent were kind of unnerving for me given this was only my fourth ride outside since the crash. The first descent was much less scary than I thought it would be but I also had a number of cars pass and force me over to the right with the wavey asphalt.  I was on the brakes and the top but let loose after the cars passed me. I was pleasantly surprised when I hit the flatter part; I didn't remember it being as flat during my drive through the day before.  Then came the longer, steady downhill into Keene, it was here, about half-way down to Keene that I had to stop and pull over. I wasn't going that fast, but I needed to settle myself before going further.  I gave myself a minute and made it to the stop light for the road construction.  It was only one lane for both directions, so I had to stop and wait for the light. This gave me some more time to relax my mind a bit.  Then I descended into Keene and did a little "Woohoo! You did it – the hard part is over."
The flats and rollers heading to Jay seemed to fly by.  I had to stop once because I lost a bottle off of one of my rear cages but I loved riding this section. I hadn't planned on Au Sable Forks for the turnaround, but I had plenty of time, so I did that and then started the climbing back to Wilmington.  It struck me that the amount of climbing I did to start my day in Wilmington was going to be quite different on race day.  I wouldn't have the benefit of breaking up the climbing to start and end as I did for this ride.  So I better not hit as hard on the rollers out of Keene.
I did 52.63 Miles in 3:28:40, pretty slow but I did it.  Now mentally and physically – I can do the Lake Placid!