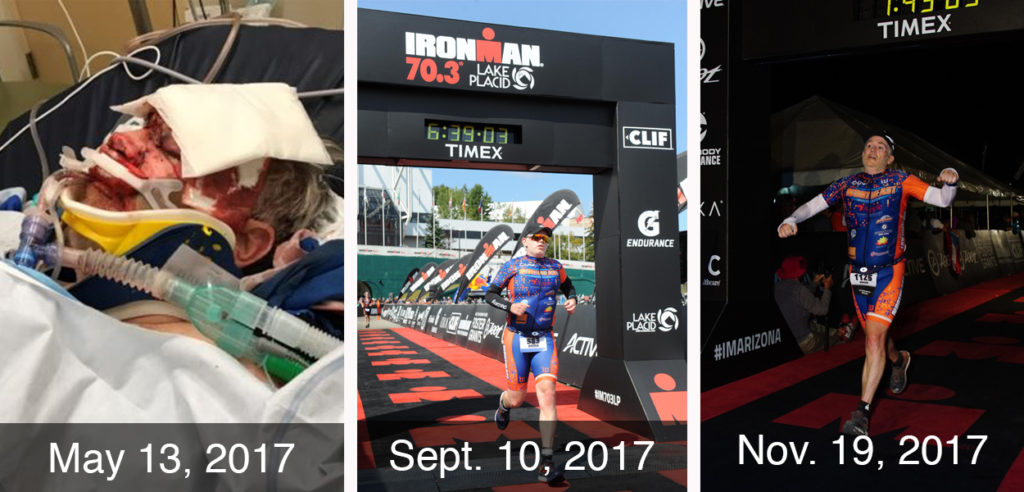 I had big plans for 2017. I signed up for my second full Ironman (Ironman Arizona) and planned on crushing my 1st Ironman time by an hour or two. My other plans included the Patriot Half 70.3 in June and Lake Placid 70.3 in September.
Things didn't go as planned but all things considered, I had a great year. Here's why it was a great year:
I made it past my 51st birthday despite almost being killed in May.
I am able to walk after fracturing my C1 vertebrae.
I am able to continue to be a part of my wife and daughter's lives.
I can watch my daughter grow into a smart and beautiful young woman.
I have the opportunity to grow old with my beautiful wife and share our lives together.
I can be a part of my extended families' lives.
I was the recipient of an outpouring of support from strangers, friends, and family following my crash.
I have no severe neurological issues from my bike crash other than daily post-concussive headaches.
I can continue training and racing in triathlons and road running races.
I competed in Lake Placid 70.3 three months post-crash and Ironman Arizona six months after my crash.
I achieved Personal Records in:

70.3 Distance Run by 6 minutes
Half Marathon by 4+ minutes
Full Ironman Swim by 2 minutes
Full Ironman Bike by 55 minutes
Full Ironman Total time by 47 Minutes
and most recently a 1:24 100yd swim – 6 seconds faster than my best before my crash

I made new friends.
Prior to my crash, I increased my cycling FTP from 224 watts to 246 watts.
And again, I am alive.
Yes, things could have gone better for my family and I. I wish they didn't have to go through what they did when I was in the hospital and caring for me afterward. I can't change what happened. I can only change how I let it affect my future. The year was great because I was able to overcome so much and my perspective on life changed for the good. I still get lost along the way, but for the most part, I am a better person having had the opportunity to overcome this major event in my life.
Next Year and Beyond
During my six weeks in a neck brace, I was limited to watching TV, going out for short walks and trying to sleep when I could. I had a lot more thinking time on my hands than I have had in a long time. From the point I got home, I wanted to come up with some way to prevent what happened to me from happening to others. It's pretty plain and simple. I am extremely lucky to be alive and not be paralyzed. With all the animosity towards cyclists and drivers' lack of awareness of how their behavior on the road endangers people all for the sake of saving 5-15 seconds from their drive time, there has to be something to change this type of behavior. There are plenty of non-profit bike advocacy organizations out there promoting bike safety and legislation to keep cyclists out of harm's way. I don't have any desire to replicate what they are doing. Personally, I don't think many laws change behavior. They just create a way to exact some punishment on those they catch or generate income for some agency. The person that cut me off didn't get caught. The police report says no car was involved because the car didn't hit me or me it, and I continue to have people put my life in jeopardy because they can't move over when there is no oncoming traffic, move over when there is oncoming traffic or turn in front of me when there is little or no time to react all so they can save those precious 5-15 seconds. There is a 3-foot law in New Hampshire. While I don't think it gets enforced much, I'm not sure that it would change behavior if it did. Drive on any highway, see how many people follow the speed limit and you'll understand my point.
So here's my idea. People have a tendency to change their behavior when they can empathize with the person their actions affect. Think of the Make a Wish Foundation, Unicef or St. Jude Children's Research Hospital. The one thing all these charities have in common is they share the charities recipients stories and pair those stories with their faces so people can better identify with them. And since I know how to build a website, my thought is to start a website that shares cyclists vs car stories with the focus on them being people first and how their lives have been lost or changed due to someone acting carelessly or just not being aware of the damage they can do. I'm not sure if it should be a non-profit or how I should set it up organizationally but I'm going to start with the website idea and figure it out from there. The website is called – I am not a Cyclist, I am a (father, mother, son, daughter….) and the web address is – https://www.iamnotacyclist.org. I may not stick with the .org address if I decide to not be a non-profit. https://www.iamnotacyclist.com is already taken but maybe I can persuade the owner that is not using it to give it up for a good cause.
As with everything in life, this is all subject to change, but it seems like a good idea to me now.
2018 Races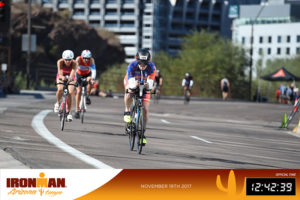 I am signed up for the Patriot half that I missed last year. They allowed me to defer and pay a $50 fee to register this year. I signed up for Maine 70.3 before going to Arizona. When Sandra asked me what full Ironman I was going to do next year, I said: "Oh, ok, I don't know". Sandra and Brenna can't travel with me during the school year so my options are limited if we all want to go. So, I picked Ironman Canada in Whistler, BC. We've never been to that part of the world and it's right in the middle of summer. As luck would have it, my coach Elliot Kawaoka with Peak Tri Coaching will also be there. So I have another opportunity to race with him.
My New Year's Resolutions
I have a better understanding of why I never blogged about my training leading up to my first Ironman. It's really hard to just get your regular work done when your training for an Ironman. It's always easy for me to procrastinate, but it's even easier when I'm tired a lot of the time. My goal for the next couple of weeks is to do my Lake Placid and Ironman Arizona race reports and then do a couple posts on what my training was like for September, October, and November. I'll also do a redesign of this site. I just grabbed a template I had a license for that didn't require any coding so I could get something up.
Thanks to my family for putting up with me and helping me to get to this point.