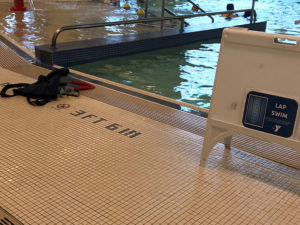 I am starting to see some gains in swimming and running this week, July 31st – August 6th.  I also managed to lose my temporary crown on Tuesday during my open water swim class. It is somewhere at the bottom of Naticook and I didn't realize it until I was half way home from class. I spent a few minutes at the end of class talking to someone about the whole procedure surrounding getting my crown. He must have thought I was a little loopy since the crown wasn't there. I also forgot to mention in last week's post that I saw a neurosurgeon last Friday for a second opinion and to get into physical therapy. Everything checked out well with the neurosurgeon, and I started my first week of physical therapy this week.
Monday
A 2250 yard swim was scheduled for Monday. I did it in a little over 37 minutes, with an average pace of 1:40 per 100 yds. I managed to do several 100s and 200s in the mid 1:30s, so I was really happy with that. I am still not breathing on the left, but I am hoping with PT, that will only take a week or two.
Tuesday
I started my OWS with my temporary crown in, but lost it somewhere in the swim. My open water swim was the best this year, with a 1:44 pace for just under 2,000 yards. I felt like I was getting closer to where I was before the crash.
My second workout for the day was a brick workout that consisted of an 1:10 bike ride followed by a 25-minute run. I had no idea what to expect for the run since I had already done an OWS earlier in the day. I figured by the time I was done with my bike I would be pretty tired. I was wrong. I went faster than what was in my plan with a 9:07 pace. I think I needed to let out a little steam and the run helped me do that since I was pretty gassed at the end of my run.
I was pretty annoyed at how my father was being treated for his heart issues. Doctors found and fixed a blockage in his heart last week, but he was back in the hospital this week and sent to a hospital an hour away from where they live in Georgia to have a procedure that the only doctors that do the procedure were on vacation. Neither he nor my mother were told this before getting an 80-mile ambulance ride to St Vincent's in Jacksonville, FL. They didn't find out until later in the day after he had been admitted. Also, the procedure he is supposed to have done this time was supposed to be done years ago, but the doctor decided on a whim he didn't need it after checking into the hospital and spending the night. His experiences combined with mine have caused me to lose faith in doctors unless it involves emergency treatment of something.
So needless to say, I was pissed off, and it made me run fast on Tuesday.
Wednesday
I decided to get back in the fast lane for the Y swim class and was pleasantly surprised with the results. Even though I am catching a bit of a draft off of the other swimmers in the lane, I didn't expect to get a 1:36 per 100 yd average. I felt like I was able to keep up for most of the class. I totally was not expecting to do that this early in my training. It wasn't because I was still pissed off. I worked that all out on my run the previous night.
I went to my first PT appointment on Wednesday. I contemplated just canceling it all together since I had been out of the neck brace for two months and my neck felt good that day. The three days of swimming back to back seemed to have loosened it up, but I am glad I kept the appointment. The physical therapist was able to show me how restricted my neck was and exercises to fix that.
An hour of mile repeats was on the plan for Wednesday as well. The original plan was to go to the rail trail and do it there but the rain in the afternoon killed that idea. I wasn't ready to run in the rain. So I went with Sandra to her strength class at the Y and did my repeats on the treadmill. My pace on the treadmill vs. what my foot pod was calculating was 10-20 seconds off. No idea which was right because the foot pod pace changed the longer I ran. Either way, the mile repeats kicked my ass, and I was struggling to keep it up for the last set, and the cool down seemed interminably long. But I also have to remember I am using a 5k pace that I could not likely do now with the six-week hiatus. On the other hand, it has been pretty cool to see how close I can come to that pace.
Thursday
My Synrgy/TRX class went well although I was pretty tired this morning from the workouts earlier in the week. The second workout was a 1:20 ride with a main set of 3 x 12 minutes at zone 4 with a 3 minutes rest. I totally blew up on this one and couldn't get past the second 12-minute interval in the main set. I either didn't eat well enough during the day or the previous day's workouts just taxed me too much. I threw in the towel at 53 minutes and chalked it up to being a bad day. I ended up going to bed pretty early on Thursday.
Friday
Friday was a long swim day, and I was back in the pool with Sandra.  I did 3200 yds at an average pace of 1:42. Not as good as Wednesday but my main set was 1000, 800 and 600 yds, so I thought a 1:42 average was pretty good.
Saturday
I did a brick with a shorter ride this week. The ride was 1:50, followed by a 25 min run of the bike. I felt pretty good and got in 29.5 miles on the bike and 2.5 miles on the run.
Sunday
Sunday started off with a 30-minute recovery ride and then a 1:20 long run.  Again, I stayed on the roads close to home and the hills this time seemed harder to manage.  Although, I beat my pace from the previous week by 4 seconds with 8.09 miles at a 9:54 pace.
I got in a few minutes less than 11 hours of training this week. Unfortunately, my training is going to take a hit when I have my tongue surgery on Thursday.  I'm going under for the surgery, and I have no idea what to expect. The doctor that could do the heart surgery on my dad came back from vacation early.  So he was able to get his procedure done on Friday and will get out on Monday if everything goes well, so that was a relief.  My dentist was also able to put another temporary crown on and gave me a retainer to help keep it in during activities like swimming.
Even though my ride on Thursday was less than stellar, it was another good week of training.