I had another week of firsts for this week of training, July 17th – 23rd. I got in my first open water swim of the year. I also did my first bike ride over two hours since May 6th and my first run over an hour since May 7th. All went well, but I was most nervous about the open water swim. With the pool being closed for renovations at the Merrimack Y, they created an open water swim class at a local lake. We had an instructor following us in a kayak. This made me feel more comfortable for my first OWS back, but I still wasn't sure how it would go. This was also a week where I didn't have any medical appointments, which was a nice change.
Monday
I had another interesting hour long bike session like the week before where I focused on moving up and down from a base gear with the small ring – 45 seconds at 85-95 rpm and 15 seconds at 120 rpm for 1 minute at each gear. I was able to manage it this time since I had a better understanding of what I was doing. My heart rate was right in line with my previous rides averaging 128 bpm.
Tuesday
Tuesday started off with my big day at Naticook lake for my OWS. My neck was still a bit stiff, but I was able to rotate enough, so it didn't hurt. I'm still unable to breathe on my left side without it hurting, but that was not going to stop me from swimming. My heart was racing when I started, but that quickly went away after a minute or two once I got into a groove. I made it about 660 yards to the turn around point and waited for the rest of the class to catch up. I was in the middle part of the group, so there were a few people ahead and behind me. Being in the middle made me feel pretty good considering I only started back swimming a week ago. I was expecting to be pretty slow and wasn't sure how it would feel to have a wetsuit on. Unfortunately, I didn't pause Garmin while waiting at the 1st turnaround, so I don't have an accurate pace per 100 yds, but I did 1890 yds in 38 minutes or right around 2 min per 100 yds. I was pretty pleased with knowing that with the rest at the turnaround, I was under 2 min per 100 yds. My first OWS was a success and another notch in my belt coming back training.
Wednesday
I missed the Y swim class on Wednesday because we went to the Red Sox game the night before and didn't get home until around midnight. Unfortunately, we didn't get to see the whole game because the game started with an hour long rain delay and they were tied going into the 15th inning. We stayed until the 8th. I made the executive decision that night that 4-5 hours of sleep wasn't a good base for working out the next day.
An 1:10 bike ride was also on the schedule, and I did that in the late afternoon. It was four sets of
8 minutes at zone 4 with 4-minute recoveries. This was a bit grueling since I haven't done a new FTP test and I'm working off of what I did before my crash. I don't think I am ready to put myself through an FTP test at this point in my recovery. As I would have expected, my average heart rate was a bit higher at 140 bpm. Even though it was grueling, I didn't feel like I had over done it when I was finished.
Thursday
I started the day at the Y Synrgy/TRX class. Since I was on the bike on Wednesday, a short run was scheduled for Thursday. I did my run in the early evening. It was 2.48 miles with a 10:06 pace. It felt good to be getting back to a running routine.
Friday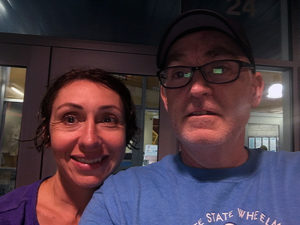 I was back to swimming and riding on the trainer. I did an hour on the trainer in the afternoon with 4 x 2.5 minutes at zone 7 with 2.5-minute recoveries. With the pool being closed at the Merrimack Y, finding an open lane to swim is difficult on Fridays. Friday night turned out to be date night at the pool. Sandra and I went at 8 pm so we could swim together. Twenty or thirty years ago, this would not be my ideal way to spend a Friday night. But, it was great to swim with Sandra. I did my first 2000 yards in a while and was able to do a 1:45 per 100 yd pace. I can't complain about that.
Saturday
Saturday is normally a brick [bike and run] workout day, and I got my first brick in since May 6th. It was also my first ride over 2 hours since then. It went great. I did a zone 1-2 heart rate focused ride for 2.5 hours. I clocked 38.6 miles and then did a 25 minute run following the ride. I felt great for the run and did a 9:42 pace for 2.58 miles. I took it easy for the rest of the day.
Sunday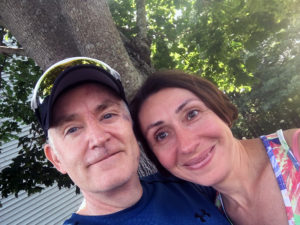 Sunday was another big day with my first long run in a while. Sandra and I went to the Nashua River Rail Trail for this. She brought her mountain bike and was my water sherpa, so I didn't have to carry any water. I wasn't sure I would make it the whole hour and ten minutes, but I surprised myself and not only did the 1:10 but also managed to negative split the second half. I averaged 9:48 for 7.15 miles. I was pretty happy with that and couldn't have done it without Sandra.
Another great week of firsts.