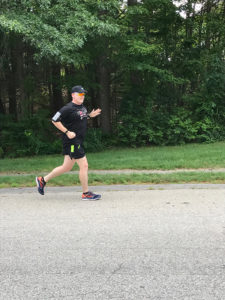 I'm a little late in posting my 2nd week back to training, mostly because I have been overwhelmed with work, which is a good problem to have right now. I managed to get almost 9 hours of training in this week. I received the green light from the Nurse Practitioner to start running on the 14th and did my first run and swim this week.  I was extremely nervous doing both, but everything went very well.
Monday
I had an interesting hour long bike session that focused on moving up and down from a base gear with the small ring – 45 seconds at 85-95 rpm and 15 seconds at 120 rpm for 1 minute at each gear.  I totally set it up wrong in Training Peaks, so I kind of got lost and just had to wing it towards the end.  My Garmin was beeping at me most of the time telling me I was either over or under the power threshold.
I use a Garmin 520 for my bike workouts, and I have been taking advantage of Training Peaks Connect IQ app where you can build a workout in Training Peaks and pull it into your Garmin head unit (my Garmin 520) for the workout session.  I haven't been able to use it out on the road for obvious reasons, but I have done 15-20 workouts with it indoors.  I had only done two outdoor rides before my crash.  Building the workout in Training Peaks is somewhat tedious, but once you have built it, you can save it in your library and add it to your training plan whenever you need it. You just need to connect your phone to the Garmin 520 to download the workout. I wish it worked with my Garmin 920xt watch. I really like having my workouts on my devices and they just beep when I have to do a new interval.
My rides on the trainer continue to go well with my heart rate averaging 128 bpm for this ride.
Tuesday
Another trainer ride was on the schedule for Tuesday.  This one was a one-minute hard zone 7 with a two-minute recovery five times for three sets.  The cadence alternated between 90+ rpm and -80 rpm for each set with the last set being rider's choice.  In the middle of the 90+ rpm, I thought for sure I would prefer a lower cadence set for my rider's choice.  During the lower cadence set, I totally changed my mind on that.  What I ended up doing was a mixture in the end. The variety made it go by much quicker.
Wednesday
This was a big day since it was my first day back to the Tri Club swim class at the Y. I was pretty nervous starting out.  When I woke up that day, I thought about delaying the start of getting back to swimming, but I also signed up for an open water swimming class that meets on Tuesdays.  I knew I had to start swimming this day if I was going to make it to the open water swim next week.  I am pretty good at thinking through worst case scenarios in my head, so I had all sorts of things running through my head that morning.  But I did it, and it felt awesome to be back in the water. There is something peaceful about streamlining off the wall when you start a workout.  That feeling goes away towards the end of a day of speed workouts, but no speed workouts for me on my first day back.
Prior to the accident, I had been in a lane with swimmers mostly faster than me.  I knew there was no way I could keep up with them or do the whole workout, so I picked the lane with only one other swimmer and a pace I could manage. I had no idea what I could do or how long I would last.  My goal was just to swim at an easy pace, focus on my form and just do 100 yards at a time with decent rest in between.  Mission accomplished. I did 1200 yards and averaged 1:54 min per 100 yds. Prior to my 2-month hiatus, I was doing 1:35 per 100 to 1:45 per 100 depending on what I was working on when swimming.
I was back in the pool later that day to do 35 mind-numbing minutes of pool running.  I really need to get a waterproof iPod.
Thursday
I started the day with a Synrgy/TRX class, which went well. Later, I was back on the trainer for an hour and twenty-minute ride.  The ride was a 30″ On/Off workout that was pretty challenging.  You do 30 seconds in zone 7 and 30 seconds recovery ten times before getting a 5-minute recovery.  It was hard, but my average heart rate was down to 133 bpm, and I did my longest ride since starting back. At the end of the day, I was feeling good about where I am at with training.
Friday
Today, I got the green light to start running. I was scheduled to do a 1400 yd swim but all the work I had to get done that day and the open lap lane schedule at the Y made it impossible for me to get the swim in.  I opted to go with a 35-minute pool run and planned to swim with Sandra on Sunday morning since there would be fewer people there at that time.
Saturday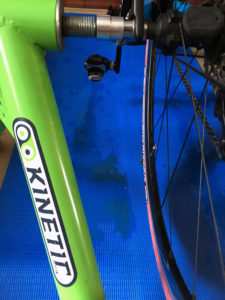 A brick workout was in the training plan for today, but I ended up just doing the bike part of the workout.  Even though I had the OK to start running, I wanted to take it slow getting back to running and not do it after doing a two-hour bike ride. A two-hour trainer ride would also be my first since my training hiatus.  I watched the Tour de France while trying to stay comfortable in the saddle for 2 hours.  I have always had saddle issues on the trainer, but I thought I had it fixed with my new saddle.  I had only had it for a little over a week before my crash, so I didn't have much time using it.  But it had felt much better than my other saddle. I guess it was just the fact I've been off the bike for a while. Saturday's ride was a mix-up with zone 6 and zone 5 intervals, so it was no easy ride.  I lost about 3 lbs in water weight, and it was clearly visible on the floor below my bike.  It was a good decision not to do the run. I was wiped out by the end of the ride.
Sunday
Sunday was the big day.  I started running again.  It turned out to be a mini triathlon spread out through the day.  I swam, biked (on the trainer) and ran at different points during the day.  I swam with Sandra in the morning and got 1400 yds in.  She swam laps for the first time ever and got in 300 yards. Again, I felt good in the water, but still can't breathe on the left side due to limited mobility in my neck.
The bike was a 30-minute zone 1 ride that felt good.  I had no problem keeping my heart rate in zone 1.
The big event for the day was my run.  Again, all the worst case scenarios were running through my head before starting.  Sandra got out her mountain bike and followed me for my one and a half mile run.  She kept telling me to take it easy and run slowly.  I was super nervous to start, but that all went away after 10-15 seconds and I concentrated on my form.  It felt great to run again, and I was able to run a 9:55 pace.  Sandra had told me I should run an 11 or 12 minute pace.  I just ran at a pace that felt doable.  Running again helped me feel like I am getting closer to normal.
I had a great week of firsts and couldn't ask for more.