I am a tad late in writing my race report for my first full Ironman, which happened in August 2016.  It is getting close to a year since I finished the race, but recently I came across another race report for the same race that was written two years after he completed the race. I believe he had most of it written and just had to finish it, whereas I am just going on my vivid memories of my first Ironman. So here it is, and it is long because despite suffering a head injury recently I still have pretty good long term memory.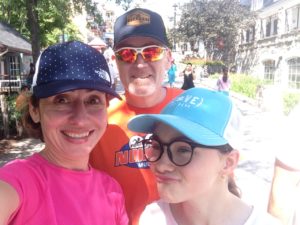 My family and I arrived on the Thursday before the race, so we could check out the resort and give me plenty of time to relax as much as I could given this was my first full Ironman. My biggest fear was rain for the bike portion. The times I have ridden in the rain, I always felt like my tires were sliding around quite a bit and the thought of sliding on these hills scared the crap out of me. I had been up here three weeks before for a training camp that allowed me to ride the bike route and I was familiar with what I would be facing on the roads. However, my biggest challenge, on Thursday and the few days before the race, was to stop myself from being too active and make sure I got plenty of rest.
The Night Before the Race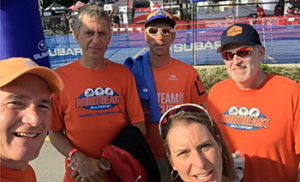 I went to the banquet dinner the night before with several of my Northeast Multisport club mates.  There was plenty of food and entertainment, but I had a hard time not thinking about what the weather was going to be like the next day and how I was going to manage the bike in the rain.  During the announcements part of the dinner, they talked about what would happen in the event of fog and swim delay or cancellation.  I was thinking to myself, "it would really suck to have to spend all this time training only to have the swim canceled."
Race Morning
I woke up at 3 am to force down my 4.5 cups of apple sauce mixed with protein powder – yum.  I always feel like my stomach is going to explode after eating that mixture.  I then got dressed in my tri suit and got my wetsuit ready with plastic shopping bags that help ease my arms and legs into the suit. My wife and I gathered up the rest of my stuff and headed outside to walk down to get body marked.  As soon as I walked outside, I noticed that the sky was cloudy, but it was also windy.  My first thought was, "hey it's windy, no fog delay for the swim."  My second thought was, "shit it's windy; it's going to be a pretty choppy out there for the swim."
We go down and get my body marked and head into the bike transition to prepare my bike for the day.  I'm not sure what tire pressure to set my tires to because of the impending rain, so I pump them up to 100 psi, then release some air down to 90 psi and then decide to push it back up to 100.  I have never been accused of being skinny, so I think I'll be alright with 100 psi.  I had been reading up on what to do with your tires to manage the rain and found an article about what they do on the Tour de France to treat the tires for rain.  I had my vinegar and water mixture in a spray bottle and sprayed my tires with the mixture and wiped my tires down.  From what I read, it is supposed to make the tires sticky and less likely to slide in the rain. Before leaving transition, I make sure my bike is in the right gear and head off to meet my wife and daughter.
The Swim
The plan for the swim is for me and one of my Northeast Multisport teammates, Craig, to swim together and draft off each other when we can.  I have sucked at drafting up to this point, so we had been practicing for several weeks in some OWS leading up to the race.  We are in a swim class together, so we are used to drafting in the pool, but in an OWS it's a whole different story.  I get down to the beach practice area and get into the water to do a couple of laps to get warmed up. Although I think I am a fairly strong swimmer, I always get nerved up about the swim.  I feel pretty good about the warm up, get out of the water and start looking for Craig and can't find him.  He's nowhere to be found, but luckily he's looking for me also and grabs me as we head to the outside left front of the pack.  The gun goes off, and I lead us out.  Everything seems to be going well, and after a few hundred feet, Craig taps my foot to let me know that he's going to lead and I can draft off of him.  I slow up, and he powers ahead of me.  Everything seems to be going well, and I decide it's my turn to lead, I lift my head up to see what the pack is like ahead and I realize I am no longer following Craig.  I think to myself, "Oh well, there are plenty of other people here to draft off of, I'll be OK."  We were in the second to last wave, so there we were swimming through lots of people.  Someone must have gotten between us and the guy I thought was Craig swam at the same pace.  So I just hung with the guy I thought was Craig until he slowed down a bit and then I pushed on forward.
As I approached the turn, I noticed the waves were getting big.  I didn't realize how big until I was into the turn.  The waves seemed to be about a foot and a half and were crashing into my face when I tried to breathe.  I am stronger breathing on my right, and although I bilateral breathe in the pool for a moderate pace, I had trouble switching to breathing on my left.  It just felt awkward, and the waves intensified that feeling, so I just switched back to the right.  I timed my breaths to be when I crested the wave, and I made it through the turn.  My next challenge was swimming into the waves and them crashing over my head when I tried taking breaths. Again, I adjusted the timing of my breaths and pinned my chin to my shoulder, so my mouth was pointed away from the waves.
Several hundred feet from the turnaround, my swim cap started to pull off my head.  So I had to stop to pull it back down. Being upright in the water caused my whole right side to cramp up.  I think to myself, "shit, this is fun, got to get horizontal and try to work the cramp out."  I start off stiff-legged, but the cramp slowly works itself out, and I find someone else to draft off of.  Despite starting in the second to last wave and how many people were in the race, I didn't have the same number of people crashing into me on the swim as I have in other races and I am thankful for that.
As with other swim legs, I misjudge how far away the finish is, and think I am reaching the end when I still have a half mile to go.  So my pace seems to seesaw for the last half mile.  I find different people to draft off of and then start seeing the rocky bottom of the lake and think to myself. "Shit  – you did this." People are standing up, walking in the shallows, but I keep swimming as long as I can because I know if I stand up I'll surely cramp up.  I reach the end and get out of the water and start the long journey up to transition.  Thankfully, it's not raining yet, and I hope it holds off for at least some of the bike leg.
I finish the swim officially at 01:15:50.  I was hoping for at least a 1:10 and a 1:05  at best but I'll take this given what the conditions were half way through and the fact that I cramped up.  My friend Craig beat me by a little over two and a half minutes.
Transition 1
00:09:32 – I totally didn't think it took me this long to transition but it was a long walk/jog from the swim to the transition tent.  I didn't change clothes for the bike and just had to towel off, put my bike gear on, drop off my transition bag and head out to my bike.  I did see my wife and daughter both on the way to the tent and then out onto the bike course.  So maybe my long time in transition paid off that way.
The Bike
As I head out to the Montee Ryan, I pull out my Bonk Breaker bar and try to choke it down as I prepare mentally for the ride ahead.  I see my wife and daughter cheering for me as I head to the rotary.  It's not raining, so again I am thankful for that.  My trip down and up the Montee Ryan is uneventful, and I feel like I am cruising along.  I make the turn onto Route 117 and make sure to not go hard up the hill and don't worry about people passing me.  On the first major descent, the rain begins, and I face my greatest fear cycling.  I feather the brakes a bit in an effort to scrape the water off the rims and brake pads.  Luckily, I don't have any crosswinds.  Much of the ride to the first turn around is a blur other than I really had to pee.  I make it through the turnaround and decide to stop at the next aid station and pee.  There's no line, so it helps me in my decision to go.  It was around this time that the rain and the wind picked up and made for a cold journey back down Route 117.
Back on the Montee Ryan, I approached the part on the bridge where it is down to one lane and split in half to allow two-way bike traffic.  It has been raining hard for a while, so the narrow lane I have to travel has standing water in the tire rut down the hill on the bridge.  I am traveling about 28 mph when I hit the bridge and think to myself "Oh shit, please don't crash."  I make it through and make my journey to the Chemin Duplessis.  We go back near the start on the way to the Chemin Duplessis, and there are plenty of spectators cheering us on despite the pouring rain.
Parts of the Chemin Duplessis are somewhat steep, at least to me; it's all in the eyes of the beholder. I don't remember how far up but I remember the accident scene vividly.  It was at a slight turn that had a good climb that I came upon a crash with five or six people on the ground and blood streaming down the road in the rain.  The people I saw first weren't moving, and one of the several people that stopped to help the crash victims said, "I can't find a pulse, can you find a pulse?"  I think to myself, "Oh shit, do I stop to help, what do I do?" I keep going because more people stopping to help will just make it more of a mess. I think, "can I really finish this race like this, keep going, shit this sucks."  This colored the rest of my ride, and I vowed I was going to take it real easy the rest of the ride and not take any chances.  As I made my way up the rest of Chemin Duplessis, I came upon other people off the road in the woods but couldn't figure out what happened to them because they looked like they were heading up the hill.  Maybe it was hypothermia.
So I took it really slowly and made an uneventful trip back down the Duplessis and pretty much the rest of the ride.    I have yet to figure out how to pee on the bike, so after trying several times, I relented and stopped out on 117 again to use the Portalet.  The rain was steady, and there was plenty of wind for the rest of the ride.  I threw out the idea that I could even come close to the time I had done the course in during my training camp or what Best Bike Split had for me.  The last hills on the Duplessis were taking their toll on my quads and hamstrings.  I felt a few twinges and had to dial it back a bit on the last few hills but I finished the bike without crashing, and now I only had the run to do.
I finished the bike in 07:09:04.  Not anywhere close to what I thought I could do but it didn't and doesn't matter because I made it through it.  I believe Best Bike Split had me at 06:40:00, but unfortunately, I recently changed the settings in there, so I don't have what I initially created.
Transition 2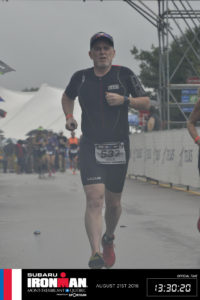 Still raining, the carpet leading to the transition tent is soaking wet.  It seems like a long hike to the tent, but it is nowhere near as long as from the swim.  I make it through transition faster this time  – 00:6:10.  Sandra and Brenna are there to cheer me on when I head out to the run course.
The Run
I had never run a marathon and had no idea what to expect on the run.  I had run all the sections of the course when i was up here for the training camp, so I knew what to expect from the terrain but had no idea what it would be like to string them all together, especially after all I had done that day.  My first stop was the portalet just around the corner from leaving transition.  It was on the run that I got to see many of the people from Northeast Multisport.  While I didn't know some of them well, it was great to see others in the race cheering me on and to cheer them on.
The plan on the run was to start off 1 minute slower than my goal pace.  My goal pace was somewhere between 10 and 10.5 minutes per mile.  I blew my plan on the first mile with a 9:37 pace, but was able to reign myself in for the next mile with a 10:37 pace. The plan for the next four miles was to keep my heart rate under 138 bpm and then depending on how I felt to keep it in the high 130s – low 140s.  The rest of the run, I kept it in the mid to low 130s. I felt steady the whole way and never felt like I couldn't take another step.  I was lucky enough to have been caught on video for the run. You can see me below at around 3:06 min and again around 4:11 min.
As luck would have it, the sun came out during the run, and I didn't have my sunglasses any longer. I figured I wouldn't need them with how cloudy it was and that I would finish in the dark.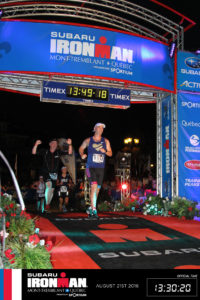 It was only at the last two miles that I felt like I was running out of gas. I had to walk on the hills, but was able to still maintain between an 11:47 and 12:44 pace.  For the run down through the village to the finish chute, there was a woman in front of me most of the way.  As we got closer, I thought to myself, "I'll be damned if they are going to announce her name and not mine."  So I started to sprint so I could create some separation between us. She was running with her elbows out, and I caught one of them as I sprinted by.  I called out an apology but who knows if she heard me.  I got to hear Mike Reilly say "Brian Muldowney, You're an Ironman!".  Unfortunately, my sprint effort brought me right up to someone else, so there is someone in front of me in my finish pictures.  Oh well, it was pretty cool to hear Mike Reilly call out my name. I finished the run in 04:49:44.
I have my wife, Sandra, and daughter, Brenna, to thank for putting up with the hours of training I put into preparing for this race, not to mention the money spent on equipment and travel.  Thank you to my wife for helping ease my self-doubt.  I also have to thank my coach Elliot Kaowaka for preparing me so well for this race and Colin Cook for running the training camp and coaching me in swim classes.  Both Colin and Elliot are with Peak Tri Coaching.
Here are my official results:
Race Summary
Swim      01:15:50
Bike        07:09:04
Run         04:49:44
Overall  13:30:20