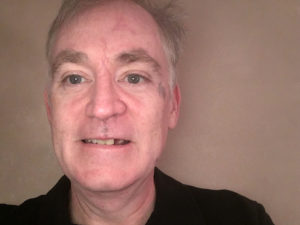 I am definitely getting closer to normal with this week of training, July 24th – 30th. Although I continue to have daily headaches with varying degrees of pain due to my concussion and limited range of motion with my head/neck, I was able to complete more than ten hours of training a week two weeks in a row. My average heart rate and stamina continue to improve with each workout and my dental restoration began this week with a root canal and temporary crown. My daughter Brenna didn't want to look at me with my temp crown because I had her convinced I was getting a gold tooth and she didn't want to see me with a gold tooth. I told her it was going to be gold with a diamond in the middle with her and her mother's name surrounding the diamond. She didn't think it would look as cool as I did.
Monday
A 35-minute aqua jog was on the training plan for Monday but the weather was really crappy, and I had a killer headache for most of the day. I elected to do an hour long easy spin and call it a day. I did 15.42 miles and had an average heart rate of 118. I spent much of the day avoiding my computer screen and lying down.
Tuesday
I woke up Tuesday feeling much better and ready for my 2nd OWS. I managed my Garmin much better this time and was hoping to have a more accurate picture of how I was progressing with swimming, but somehow I lost 500 yards when I looked at the data later. I must not have connected to the satellites after hitting start following a rest pause. I still did much better than my last OWS and did close to the same distance in 36 minutes. Last week it was 38 minutes.
Tuesday was also root canal day. I got shot up with Novocaine and received my first root canal ever. It took less than an hour and was pretty painless. Even hours after it was done, I didn't have much pain or swelling.
Wednesday
On Tuesday night, we went to the Fisher Cats game to see them play the Portland Sea Dogs, but it wasn't a late night, so I didn't miss my Y swim class on Wednesday like the week before. We left early enough for me to get a good night's sleep. I wasn't ready to jump in the fast lane this week, so I swam in a different lane, so I wasn't struggling to keep up. As it turns out, I really didn't struggle at all and was leading the lane for most of the workout. I still fumbled with my Garmin, but I recorded 2950 yards with an 1:42 per 100 yds average pace.
My swimming is progressing much faster than I anticipated. In the middle of my first year of triathlon training, I had a double whammy injury that prevented me from doing anything swimming, biking and running wise. I had developed tennis elbow swimming and pulled a muscle behind my knee that made biking or running painful. I had to take four weeks off back then and, at the time, swimming seemed to have suffered the most from the time off. This time I am coming back from more than six weeks off and a more serious injury and am not struggling as much.
A short run was also in the training plan for Wednesday, and I did a 25-minute 2.5 mile run late in the afternoon.
Thursday
As with every Thursday, I started the day at the Y Synrgy/TRX class. This week, my second planned workout was an hour and twenty-minute ride. It was another brutal zone four ride but having a cup of coffee before the ride seemed to help.
It was – MS: 5 sets of:
1′ @ 94% FTP/z4
1′ @ 92% FTP/z4
1′ @ 90% FTP/z4
1′ @ 88% FTP/z3
1′ @ 90% FTP/z4
1′ @ 92% FTP/z4
1′ @ 94% FTP/z4
3′ @ 50% FTP/z1/very easy!
I got 22.5 miles in with an average heart rate of 129 bpm and a max of 152 bpm.
Thursday was also the day I got my temporary crown put it. It's going to be a long process because they first have to cast for the post since the tooth sheared off close to the gum line and there's not much to work with. This also means they have to cover the hole for the post with a temporary that doesn't have much tooth to adhere to. So they let me know if would likely fall off and I would have to glue it back myself or come in for them to glue it back. The preference was for them to glue it back because they don't want me to get glue in the hole where the post will go. Unfortunately, I have to wait three weeks to get the post because my tongue surgery is in two weeks and I will have to wait a week for it to heal.
Friday
Friday was swim day, and I was back in the pool with Sandra. She is progressing along with her swimming, and it's great to have a swim buddy. Someone was also generous enough to switch lanes to allow us to swim together. I did 1950 yds with a 1:42 per 100 yd pace. I'm definitely getting closer to where I left off swimming.
Saturday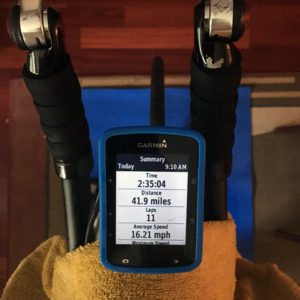 No brick this Saturday, just a long ride. It was only a little longer than last week, two hours and thirty-five minutes, but it was "Long Tempo Prep Work" which meant a main set of: 4 x 10′ @ 80-85% FTP/z3 (2.5′). It started with a 60-minute zone 1-2 warm up and finished with a 45-minute zone 1-2 cool down. It was the longest ride back so far, with 41.9 miles in the saddle. I know it's all relative, but I am having a hard time remembering what it is like to be in the saddle for 5-6 hours.
Sunday
I started the day off with a 30-minute recovery ride and then set off for an hour and a half long run. With no water sherpa to follow me around, I broke out the Camelbak vest. I stayed on the roads close to home this time, so I had some hills to contend with and wasn't able to negative split this one. I did 9.02 miles at a 9:59 pace – not bad.
I finished the week strong and didn't lose my temporary crown. I fully expected to lose it over the weekend, just because that's how those things tend to work. Instead, I finished the week with all my teeth intact.